Posted by ronksl on November 13th, 2014
Here is a very good and humorous video from YOUTUBE called
How to measure yourself for a vintage leather jacket –  Video

The video shows you exactly how to take measurements with a friend around the chest and shoulders properly for a custom made leather jacket to get a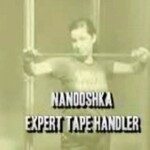 perfect fit. The video also shows how to take the length measurement watch it several times or pause it during playback if you want to follow along.  This video is the only one i could find on the internet that was useful but if you need more info then check out the other posts in the How to Measure for Leather Wear Category of this blog.
A lot of people these days find it harder and harder to find a jacket that fits in a Standard size, that is where custom fitting comes in.  So videos like this make it easier for people to now get custom made leathers without having to go to a tailor. 
If you walk into a local shop that does custom leather wear you are looking at a cost of about $800+ for a custom leather jacket in the United States.  But at stores like ours on-line you can get the same or better quality leather wear for only a couple hundred dollars, average leather motorcycle jacket is $229.99 custom made for you at our store.   Basically you can get 3-4 custom made leather jackets at our shop for the price of one locally.  In a store you might have 4 or 5 choices of styles where as at our store WWW.LEATHER-SHOP.BIZ  we have literally 100's of styles for men and women and the colors you want at no extra charge.  That why i love this video it helps people who are afraid to order a custom jacket get over their fears and shows you how easy it is.

When we say we make custom made items we mean it if you don't see the style you want in our shop then all you have to do is send us a pic or link of the style you want and we will make it for you.  We make every type of leather wear not just jackets and coats so if we can see what you want then we can make it for you, no problem.

When you have your measurements ready send them to me in a e-mail to ron@leather-shop.bizwith the style #, color, free options you want plus any special requests.
Bookmark this page or better yet this Blog and come back and watch the video when you are ready to get yourself a custom made leather jacket.