Posted by ronksl on December 29th, 2014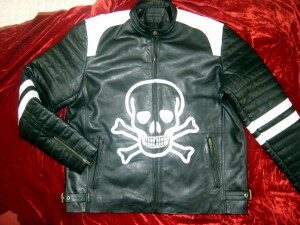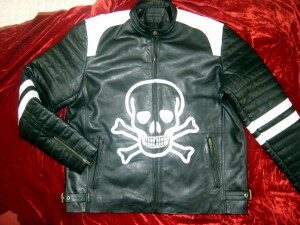 Hi there, hope your summer is good so far.  This post is about our Mens custom made leather jacket style MLJ225 that a customer wanted to customize a bit.  This is basically a Fight Club style jacket worn in the movie in Black with White stripes.  Our customer wanted to step it up a notch and asked if we could modify the White leather trim on the shoulders and also add a Skull and Bones Stenciled on the front.  We use the best top-grain cowhide or Aniline cowhide leather depending whether you want the jacket for motorcycle riding or casual wear.  It is also custom made to his body measurements that's what we do, not everyone can wear off the rack Standard sizes.  Although we can and do make Standard sizes as well  we can make any size item.  Our items are very inexpensive because they come straight from the factory to you no middleman involved and we don't carry already made inventory that we have to warehouse.  Everything is made to order with your Custom measurements and in whatever color leathers with any special requests like Logos, Embroidery, Stenciling, Stud work or Patches just show or tell us what you want anything is possible.
Skull and Bones leather jacket custom made
We can make any style leather jacket with added features.
If you want to order this exact jacket you can just contact us this is a special order.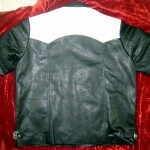 Anyway our customer was so happy with the fit/ looks and quality of the Skull and Bones custom made leather jacket that he ordered another exact jacket in a larger size so he can wear layers underneath in the Winter.  And he just ordered his 3rd jacket in a different style that we are now working on now, average delivery is 3-4 weeks once we get all your measurements and request in a e-mail.
CUSTOM LEATHER JACKET MEASUREMENTS A. CHEST = B. SLEEVES = C. Shoulder TO Shoulder = D. Shoulder TO Neck =
E. Back Length =
Custom measuring guide for leather jackets/coats/shirts and vests
If
you have any question hit the CONTACT button on the right side of the screen or e-mail me at ron@leather-shop.biz or call 315 307-8923Â  thanks see you again soon.
Incoming search terms:
leatherjacketwithskullandbones